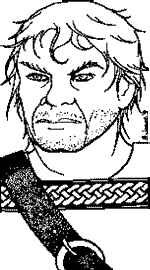 Wulf-Dylan (old Rh. "Wulf" and Dun."Dylan", "Wolf of the Sea"?) was a half-Northron half-Dunman Warrior who in T.A. 1697 allied himself with the Sorceress Iweriadd Gwynn and was appointed as the High-chief of Dunfearn by her. Together, they planned to overrun the lowlands of Eriador.Wulf-Dylan invaded the Gondorian province of Calenardhon. During a surprise ambush while crossing the Isen Fords, the High-chief was killed and his forces eradicated.
Notes
The Original Name is given as Ulf Dilan, possibly the gothic Name Wulf and the welsh Name Dylan combined.
References
MERPLords of Middle-earth Vol II:The Mannish Races
Community content is available under
CC-BY-SA
unless otherwise noted.