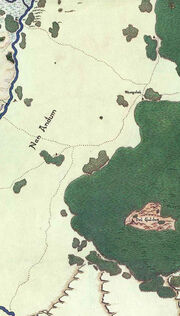 Numerous tracks paralleled the banks of the
Great River
,
but most of the secondary roads in the Nan Anduin stayed close to the forest eaves. Even these, though, were little more than intermittent animal trails. The Woodman Trail, which ran from Woodmen-town south past Rhosgobel to the Parth Celebrant, was the sole exception. Navigation on the eastern bank of the river was difficult, for the ground constantly rose and fell across countless streambeds. Generally, the only easy means of north- south travel was by boat, using the Anduin itself.
Community content is available under
CC-BY-SA
unless otherwise noted.