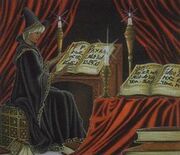 In
Middle-Earth
a
Wizard
(lit."a Person of great Wisdom") is a person skilled in
magic
or
Lore
.A Wizard can be a
Magician
or
Sorcerer
or a
Wise
,even a travelling
Conjurer
.
In the closer sense Wizard refers to the Order of the Istari who often used the guise of the travelling Wiseman, Councillor and Loremaster or Master of the Wild as covers for their true nature as powerful Maiarin Spirits.
Wizards of Renown
Roleplaying
The 'Wizard is a playable profession in MERP and Rolemaster and an elite-order in LOTRRPG.
MERP
In MERP Wizard may also refer to the Mirak of Near-Harad, Hearth-Wizards or Hedge Wizards and Hildinóle of the Eriadorians and the Wizards of Umbar.
lesser Wizards mentioned in MERP and MECCG:
Hall of Fire Magazine
The Magazine Hall of fire proposes some lesser Istari and Wizard Characters:
Community content is available under
CC-BY-SA
unless otherwise noted.