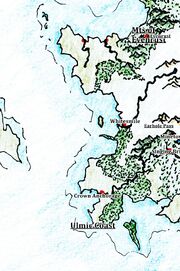 White-smile (Kil."Nikimîri") originally was a númenórean garrison on the Ulmic Coast in Southernesse's great east-continent, built to oversee the local prison-colony of Girtland.Later it became a free Town in it's own right , though the local population still traced it's origin back to the Scarlet Swearers, the descendants of the original black númenórean military garrison, not the prisoner-population.In later times they had however already largely intermixed with the White Corsairs who had conquered white-smile in 1288 TA.
White-smile was the birth-place of a number of southern cults including the blood-drinkers, the Cult of Nisyen, and the knife-dancing Cult.
Places of note
White smile Garrison
White Smile Cliff
Notes
Based on:Middle-Earth Down Under: An Antipodean Campaign by Norman Talbot (Department of English, The University of Newcastle, University Drive, Callaghan, Newcastle, NSW 2308, Australia) ©1994 Norman Talbot; first published in Other Hands 4.n
Community content is available under
CC-BY-SA
unless otherwise noted.