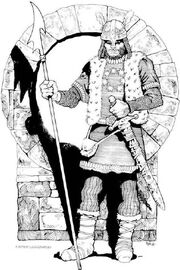 A Warden or Guardian is a Soldier whose duty is is to protect, inspect, supervise and defend a special Place or Person, a Sentinel, Watcher, Lookout or Bodyguard.The Titles Warden and Guardian could also be used to assign ceremonial officers.
See:
Roleplaying
In LOTRO the "Guardian" and the "Warden" designate two different character classes, A "guardian" wears heavy armour and a heavy shield and is capable of withstanding mighty blows and stands to the forefront of battle, shielding his allies.A "Warden" uses medium armor and relies primarly on spears and javelins.
Wardens of Note:
Examples
See
Community content is available under
CC-BY-SA
unless otherwise noted.