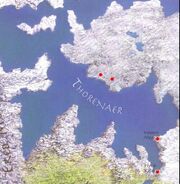 Located north of Hyvät Kalat on the last jut of land enclosing the Finger Bays of the Forsaken Sea, this Umitic settlement was part fortress, part village and part working forge. Established in T.A. 1439 as a trading post by an Umit named Galgrin, his heirs still populated the forge. A stone fence encircled the settlement (8' high and 5' thick), pierced on its westward-facing side by iron-bound wooden gates to allow access to the bay and the trail south. There were approximately twenty stone structures within the fence and two stone quays built out into the water of the bay. The quays were used primarily by the Lumimies whalers and fishermen who traded with the Umli. 
Beneath the village was a complex of forges and craft halls wherein the Umli produced fine weapons and metal utensils. These were usually traded with Dwarves and other Umli further east. The Lumimiehet had little use for the fine weaponry, and instead traded their fish, ivory and sealskins for lightweight tin cooking pots, knives and metal fishhooks. Visitors were welcome to stay above ground, but none but Umli were allowed within the subterranean forges.
The dragon Canadras once desolated Vasaran Ahjo in T.A. 1545, murdering its leader. The ice-drake was merely making a bit of sport to enliven an otherwise dull winter day, and went about his business in a haphazard way, so that many villagers survived. Galgrinic, son of Galgrin, was one of these. Later master of his father's forge, Galgrinic swore to exact vengeance upon Canadras, and any who came to do battle with the dragon enjoyed his full assistance and blessing. Galgrinic sorely desired the recovery of his father's enchanted hammer, which Canadras had stolen. Both weapon and forging tool, Galgrin's Hammer was an heirloom beyond price, and Galgrinic was prepared to surrender great wealth for its ransom, swearing undying friendship to whomever retured it to his household (and like vengeance on any who would recover the item and keep it for themselves.) 
Community content is available under
CC-BY-SA
unless otherwise noted.