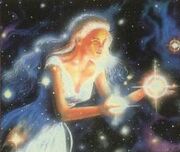 Elbereth Gilthoniel is the Queen of Arda and wife to Manwë.She is the highest Valië and the queen of stars.
Appearance
Very tall, beautiful beyond description, great wings, snow-white skin, bright shining eyes, gold-silver glimmering hair, moon-bright bonnet, silver-white raiments, silver white circlet with a band of stars.
Realm
Light, stars, light of Arda, hearing, insight.
Personality
Servants
Cults
Names
Artifacts:
Cauldrons of Varda
Circlet
Ring
sickle-blade of silver
Staff of Varda
Torch of Stars
Powers:
References:
Lords of Middle-earth Vol I: The Immortals
Community content is available under
CC-BY-SA
unless otherwise noted.