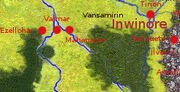 Vanyamar was the part of Eldamar settled by the Vanyar. At first these had lived in Tirion, but later they spead from the slopes of Taniquetil into the neighbourhood of the Two Trees into the plains and woods of Valinor.
Places of note
Regions
Community content is available under
CC-BY-SA
unless otherwise noted.