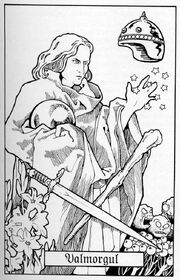 As
Warden
of the
Citadel of Ardor
,
Valmornólë
was
responsible for the security of the Tower. He was a member of the Ardan Council and often dominated that group by sheer force of will. Valmornólë held Mórësaur in contempt, and made it clear that he felt he himself should rule the organization. It was the Magician who was often responsible for the internal schisms. After the First Age Valmornólë wore an artificial laen (enchanted glass) arm— the fleshly limb was lost in combat with the Elf-lord Cirissë Menelrána. The Magician stood 6'8" tall, and boasted blond hair and flashing blue eyes.
Notes
Original name form in MERP:Valmorgûl = Valmornólë
Community content is available under
CC-BY-SA
unless otherwise noted.