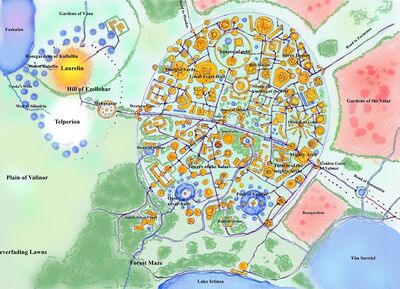 Valimar (or "Valmar") was the city of the Valar in Valinor.
Places of Note
Bell-Towers
Bronze Tower of Tulkas
Court of Aule
Dome of Varda
Faskala Numen
Gardens of the Valar
Golden Gates of Valmar
Golden Streets
Great Feast-Hall
House of Melkor
House of Omar and Noldorin
Irtinsa
Mighty Arch
needle the kindling of the Tree
Neverfading Lawns - the Abode of Nessa
Obelisk of Gold
Obelisk of Silver
Osse's silver-halls
Plains of Valmar
Pool of Valmar
Rosegardens of Kullullin
Silver Domes
Square of gold
Road of Samírien
Tôn Sovriel
Towers of the Valar
Turrets of the mighty Arch
Western Gate
Inhabitants:
Amillo Aulë Lúsion Morgoth Osse Salmar Telimektar Tulkas
References
Read SU28-9.38,50,55,61,65,70-2,74-6.84.102.187.148-9; UT232.
Community content is available under
CC-BY-SA
unless otherwise noted.