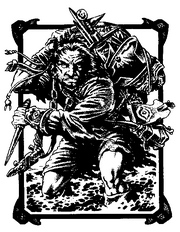 Vacros
was an
Easterling
Chieftain who, at the beginning of the
fourth Age
took leadership of many of the tribes of
Rhûn
.
Speculations
Vacros may have been a puppet of one of the Ithryn Luin in their power games, who had been promised to become "King of all Tribes".He was probably influential in the formation of the Usrievrim, an Easterling Alliance that the Kings of Gondor and Rohan fought in Rhûn, in the early fourth Age.
References
Community content is available under
CC-BY-SA
unless otherwise noted.