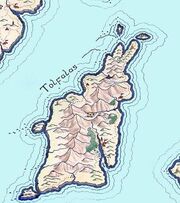 The mountains gave way to extremely rugged hills in the northern part of Tolfalas, Here, near Lebennin and Belfalas, Gondor maintained three isolated holds: A beacon stood a few miles from the northeasternmost point, across a narrow straight from the adjacent islet of Dol Aerrochben (S ."Hill of the Sea-knight"). Even amidst the roar Of the sea, the bell-sounds and light from this beacon easily reached the great twin Tower that commanded the summit of Dol Aerrochben. The twin-tower was the second, and-greatest, of the holds of northern tolfalas. It housed the Master or the Straights, the captain and navigator responsible for directing ships through the nearby narrows. No man on tolfalas, save the Warden himself, was more powerful and no one ws more respected.The Master's three rugged ships rescued ship-wrecked seamen and braved vicious storms in order to deliver urgent messages to the mainland.
Community content is available under
CC-BY-SA
unless otherwise noted.