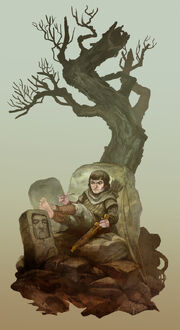 Trotter
(also called
Padathir
,
Rhimbedhir
and
Du-finnion
) was a rugged
Hobbit
, the only ever Hobbit to become a member of the
Order
of the
Rangers of the north
. His past and true identity were forgotten but legend has it that Trotter was actually
Fosco Took
or
Peregrin Boffin
while other sources assume that he was actually a
Wild Hobbit
, a member of one of the lost tribes of
Eriador
.
Trotter got his name from his wooden shoes, a most un-Hobbitlike trait, which hid terrible scars on his feet. These scars were inflicted on him at the hands of servants of the Enemy.
Real-World Significance
In earlier drafts of The Lord of the Rings, the character who would eventually become Aragorn was originally a hobbit named "Trotter".
Trotter is also used as a sample character in The One Ring - Roleplaying in Middle Earth.
Community content is available under
CC-BY-SA
unless otherwise noted.