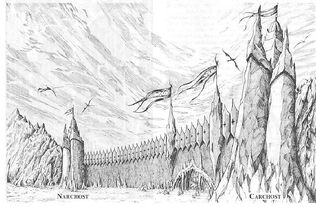 Carchost and Narchost (S. "Red fort" and "Fire-fort"). The names of the Towers of the Teeth that guarded the Cirith Gorgor pass into Mordor, built originally by Gondor in the early Third Age, Carchost was the West Tower, Narchost the East Tower. With the fall of Sauron at the end of the Third Age the upper levels of the towers were destroyed, but the lower floors remained intact.
See:
Characters:
Gúrthrokh Krûsnak Kúrgrush Thrugash
References
Fanmodules:MORDOR GAZETTEER
Community content is available under
CC-BY-SA
unless otherwise noted.