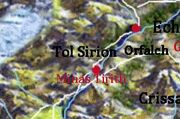 Tol Sirion was an Island on the river in the Pass of Sirion on which Finrod had built the tower of Minas Tirith; after its capture by Sauron it was named Tol-in-Gaurhoth (S."Isle of Werewolves") or Sauron's Isle.
Places of Note
Bridge of Sirion
Highest Hill
Gate Tower
Tower of Minas Tirith
Dungeons of Minas Tirith
Inhabitants
Beren Ercharmion Derufin Draugluin Edrahil of Nargothrond Falathar the Mariner Finrod Felagund Geros Gimli the Blind Hallas Miaulë Oikeroi Poldon Raden Sauron Tevildo Thuringwethil Umuiyan
Boromir: "Is it not a strange fate that we should suffer so much fear and doubt for so small a thing? So small a thing!"
- J. R. R. Tolkien, The Fellowship of the Ring II:10
Community content is available under
CC-BY-SA
unless otherwise noted.