Tirion (Q. "Great Watch-tower")was the city of the Elves on the hill of Tuna in Aman.
Places of Note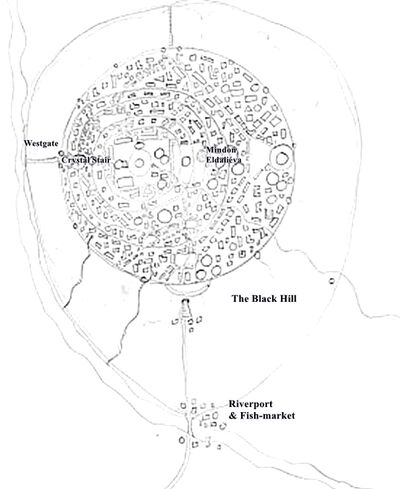 Alleys of Vansamírin
Black Hill
Crystal Stair
FeanorsHouse

Feanor's Smithy
Feanor's Treasury

Gates of Tirion
Golden Feet
Golden House
The Hills
Jewel-mines
long white stairs
Marble-towers
Mindon Eldaliéva

Great Gardens of Mindon
Great Square of the Mindon
House of Finwe
House of the King
Court of the King
Silver-Lamp

Place of Fountains
Road of Samírien
Terraces of Tirion
White Walls of Kôr
White Kordar
Inhabitants
Eärendil the Mariner Feänor Finarfin Ingwë
References
Read LotRI 309,482; LotRII 260; SU59.61-3,69. 71, 75 82 84-6,102,114-15,125-7.169.240. 248.291.
Community content is available under
CC-BY-SA
unless otherwise noted.