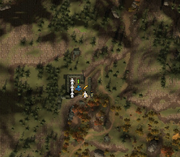 Thorenhad (S."Fenced Place") was a ruined settlement in the Bruinen Gorges.It had once been located on a northern road connecting the Great East Road to the watchtowers of Nan Tornaeth in the north
In the late Third Age
About T.A. Thorenhad long fallen into ruins, however the Rangers of the North and Elves of Rivendell sometimes used the levelled place as a temporary camp and sheltered hideout.
Inhabitants of Thorenhad
Birrungur Blacksteel Breglobor Elladan Elrohir Elweleth Fathrem Gelluigon Haerel Limruineth Ninimiel Pigedhryn Ruthlas Silivremir Wéthorm
Community content is available under
CC-BY-SA
unless otherwise noted.