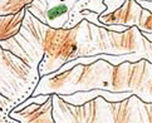 Suk Skuthruga was a a mountain situated in the Great Spur of the Hithaeglir.The Skuthrugrai (Or. "Dark-murderers") were a Mountain-Orc tribe that occupied a cavehold beneath it. The citadel Storugpruz guarded the pass between the Plain of Litash,the Anghiril Cut ,and the Ettenmoors of Rhudaur.
References
MERP:Angmar (2nd Edition)
Community content is available under
CC-BY-SA
unless otherwise noted.