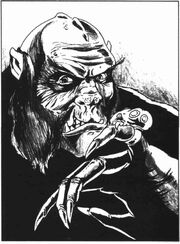 Shortly after
Morgoth
twisted the spirits of
Maiar
into
Balrogs
, he began the dreadful work which gave birth to
Orcs
. Storlaga was one of the very first of his making. Storlaga's soul was delved from the spirit of a young, innocent awakened-
Noldo
whose misguided awe and curiosity drew him too far along Morgoth´s path.
As one of the very first Orcs, and the greatest of their spell casters, Storlaga became a primary invocator of the worship of Morgoth, Part Elf-demon (from the twistings of Morgoth) and part Wraith, the ensorcered Orc-demon worked alongside his mentor and companion, the dreadful corrupting Maia known as Fankil(aka: "Fangli" and "Fukir). Storlaga served Morgoth with complete devotion, bending each new generation of tortured Orc-spirits to the worship and service of their horrid master. Eventually. Storlaga fled Angband, avoiding the insane wrath of the Dark One, the ire incurred by the loss of a Silmaril from Morgoth´s Iron Crown by Beren Erchamion. Storlaga's further adventures are unknown.
Principal Items:
References
MERP:Lords of Middle-earth Vol III: Hobbits, Dwarves, Ents, Orcs & Trolls
MERP:Treasures of Middle-Earth
Community content is available under
CC-BY-SA
unless otherwise noted.