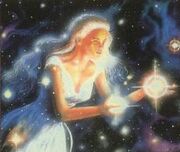 The Stars were lights that illuminated Eä.Some had been made by Eru before the creation of the Ainur, others had later been added by individual Ainur, especially Varda or had once been Eälar who transformed themselves into celestial bodies.
Stars or Planets
Alcarinquë,Silindo - Jupiter
Carnil, Gormok - Mars?
Earendil's star, Rothinzil,Gil-Estel - the Evening Star, Venus
Elemmíre - Mercury
Lumbar, Eneköl, Gyürüchill, Shomorú - Saturn?
Helluin, Nielluin, Niellúne, Nierninwa, Gil, Ingil, Tilio - Sirius
Luinil - Neptune or perhaps Uranus, blue Rigel,Spica or Regulus
Morwinyon, Morwinthi- Arcturus
Nénar - Neptune
red Borgil - Aldebaran or Betelgeuse
red star of Sauron, Blogwir (N) - Algol ?
Telumehtar, Nielluin, Taimondo, Menelmacar - Orion
Tengyl, Tankol or Tannacolli - Altair?
Til - Alpha Andromedae?
Zingil - Venus
Other (N):
Alpha Centauri - Filiculumpe
Andromeda Galaxy - Fanyamar, Fanyaluinë
Beehive Cluster - Nierwes
Beta Aquarii - Herendil, Ausirol
Coma Star Cluster - Hyellehresta
Double Cluster - Celeg Aithorn, Calmacil
Epsilon eridani - Menelairë
Halleys Comet - Vanwaranyar
Large Magellanic Cloud - Morneluntë
Messier 7 - Olomboyeldë
Messier 41 - Titinwë
Omega Centauri - Calimacomëa
Orion Nebula - Ezelórë
Procyon - Menelsamno
Small magellanic cloud - Mirilyafarma
Constellations
Anarríma (Q."Sun-border") - perhaps Virgo or Capricorn?
Durin's Crown - Cepheus or perhaps auriga, Andromeda or northern crown
Menelmakar, Menelvagor, Telumehtar, Telimektar -The Swordsman of the Sky, Orion
Remmirath,Sithaloth, Sithaloctha, Itselokte - the Netted Stars, Pleiades or Seven Sisters
Soronúmë - Western Eagle, Aquila
Telumendil - perhaps Aquarius?
Tinwithil - perhaps Gemini?
Valacirca,Edegil, Otselen, Cerch i-Mbelain, the silver Bear, the Silver Wain, The Great Bear, the Burning Briar, the Sickle of the Valar, the Seven Butterflies, the Seven Stars,the Wain - the Big Dipper, great Bear,the plough, Ursa Major
Wilwarin - "The Butterfly," Cassiopeia
Other (N):
Andromeda:Nérenda
Antlia:Mulmanen
Aquarius:Nendil
Apus:Avatal
Ara: Yangwa
Aries:Pollo
Auriga:Raxaron
Böotes:Hyarron
Caelum:Telimbo
Camelopardalis:Andalango
Cancer:Atsacuima
Canes venatici:Ronyo
Canos Major:Arroa
Canis minor:Pityaroa
Carina:Ciryahyanda
Centaurus:Arquen
Cepheus:Poldacár
Cepus:Auton
Chamaeleon:Viryanasto
Circinus:Cormatyaro
Columba:Cucua
Coma Berenices:Finturillë
Corona Austrina:Romenyaríë
Corona Borealis:Formenyaríë
Corvus:Corco
Crater:Nárëtundo
Crux:Tarwë
Cygnus:Alqa
Delphinus:Ulmondil
Dorado:Malantur
Draco:Lheucë
Equuleus:Pityarocco
Eridanus:Malicon
Fornax:Urna
Gemini:Onóna
Grus:Lenqelénu
Hercules:Poldor
Horologium:Lúma
Hydra:Lingwëlócë
Hydrus:Nenilóce
Indus:Valasindi
Lacerta:Pityalócë
Leo:Rauro
Leo minor:Pityarauro
Lepus:Lapattë
Libra:Lunguntë
Lupus:Narmo
Lynx:Taurëmiura
Lyra:Salma
Mensa:Sarno
Microscopius:Tixë
Milky way:Arda (c)
Monoceros:Eretildo
Musca:Tsette
Norma:Formeniel
Octans:Toltoranta
Ophiuchus:Lococolindo
Pavo:Tocotaran
Pegasus:Vilwarokko
Perseus:Ohtacaro
Phoenix:Narwilin
Pictor:Emmaron
Pisces:Lingwër
Piscis austrinus:Halaromen
Puppis:Luntë
Pyxis:Colcallë
Reticulum:Natsë
Sagittarius:Cúron
Scorpius:Nastaro
Sculptor:Ondomaitar
Scutum:Turma
Serpens Caput:Lheucëcara
Sextans:Enqeäranta
Taures:Mundo
Telescopium:Palantilla
Triangulum:Neltil
Triangulum australe:Romenneltil
Tucana:Poldonengwë
Ursa Minor:Pityamorco
Vela:Fanwalarma
Virgo:Vendë
Volans:Tyelco
Vulpecula:Pityarusco
Other
Community content is available under
CC-BY-SA
unless otherwise noted.