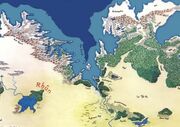 The Spine of Arda was a mountain chain in central Middle-Earth, eastern counterpart of the Ered Mithrin and Iron Hills and awakening place of two of the eastern Tribes of the Khazâd, the Stiffbeards and the Ironfists. The Spine of Arda collapsed with the great Cataclysm in the Second Age. Several eastern mountain ranges were believed to be remnants of the Spine of Arda including the Barl Syrnac, the Islands of Mur Fostisyr, the Desdursyton Plateau, and the Hills of Y-Lústurangsur and Ûster Kryl.
Settlements
Community content is available under
CC-BY-SA
unless otherwise noted.