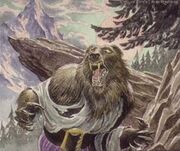 A
shapeshifter
is a person which is able to master his appearance and change into a different form.The best known shapeshifters in
Middle-Earth
were the
Skinchangers
of the
Beornings
but the skill of shapeshifting was also common among the
Ainur
, both
Dark Lords
,
Morgoth
and
Sauron
were able to assume different forms, Morgoth appeared as a huge
Giant
when he entered
Arda
and later as a terrible Warlord, but when he went to seduce the
Hildor
he took the shape of a mighty and beautiful man.
Sauron
appeared as a mighty and beautiful fire spirit, in his original form and in his disguise as
Annatar
but also as a terrible demon or Warlord, as a
Serpent
, a
Werewolf
and a
Vampire
.The Sky-spirits of
Manwe
and
Elbereth
-the
Manir
and
Suruli
- also appeared both as human-like beings and in the form of
Birds
.Morgoth´s
Phantoms
, whom he sent out as
Agents
and
Spies
even could appear in any form. The
Istar
Radagast
also was a famous "Master of shapes and hues".Some Elves also possessed shapeshifting abilities, while 
Luthien
took the form of the Vampiress
Thuringwethil
,
Finrod Felagund
changed the appearances of his and
Beren Ercharmion
´s entire company into that of orcs.
Lotro
In The Lord of the Rings Online it is revealed that shapeshifting was a gift which the Wizard Radagast had once bestowed on the ancestors of the Beornings.Rogue men stole and abused the gift and eventually became the Gaurdain and Ungoldain.
Role-playing
In MERP the Shapeshifter is an additional class for experienced gamers.In Rolemaster the "Doppelgänger" is a similar shape-shifter profession.
shapeshifters in Roleplaying
There were other shapeshifters than just the beornings in , among them were the:
Community content is available under
CC-BY-SA
unless otherwise noted.