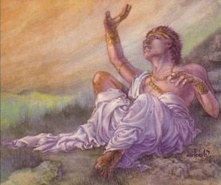 The
Shadowfolk
were
Maia
-Spirits bound to the Element of Shadow and Darkness.They were for the most part servants of
Mandos
and
Vaire
but some also served
Lórien
and
Este
or lived in
Nienna
´s Halls at
Fúi
.
One group of the Shadowfolk, the Uvalear, had left Aman and had settled down in the misty valleys of Hithlum before the arrival of the Feanorians.
The Black Demons: Hunters of Melkor, Vampires, Knackers, Demon Cats and Phantoms or Dindair were often believed to be fallen Shadowfolk-Spirits.
Another group of Shadow-Demons were the Demons of the Void, masterless incarnations of the outer Darkness of Kúma.
Tribes
Shadowspirits of renown
Fallen Shadow-spirits
Community content is available under
CC-BY-SA
unless otherwise noted.