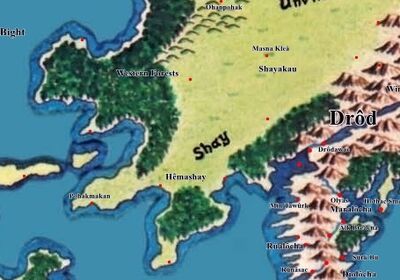 Sháy lay east of the Sháy Bight and west of the Orosúli (Q. "Mountains of the Wind"), on southeastern coast of Middle-Earth. It was home of a large population of Sháyan-speaking farmers.
Peoples and Tribes
A'za Awartási Bucol Goénid Hsinpí Iaekgârayi Khiang Rúakasi Sarbardar Sêd Tí Valair
Regions
Déanin Ekkar Foothills of Nay Goldrogâra Goldroin Hêmashay Iaekgara Iaektrae Peninsula Imaldawath Nenyurrist Western Forests Shayakau Shasindi Sháy Sêd Shores of Deánxeh Sittain Unvirnayrit Windmountain heights
Places of Note
Agurisgen Eranthath Hemashay Karib A'za Kohbehtô Masna Klêa Níali Ohanpohak Panyô Pohakmakan Saragisha Serbadar Pani Shayakau Ustad Bucol Valair sar Zelón
See:
Notes:
Original form in MERP:Shay
References
Fanmodule:Níali, city of grey walls
the Wild Lands south and East, Gazetteer by Pete Fenlon
Community content is available under
CC-BY-SA
unless otherwise noted.