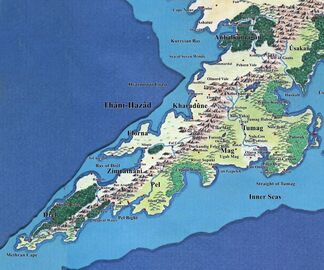 Long-settled yet full of wild shores, dark woods, and rugged mountains, south-western Middle-earth was often referred to as the Dominions of the Seven (Ad: "Thâni-Hazâd"). It was a place of riches and wonder, of fiercely independent oligarchies challenged by the might of the Storm King and the terror engendered by the Lord of the Rings.[1]
The Seven Lands included (in alphabetical order):
Other names
Hyarmenúrë
Southern Heat
Southwestern Peninsula
The Lands of the Thâni-Hazad
Regions and Bodies of Water
Aden Prists Araden Aronyar River Arthrazoc Batân an-Zimrathâni Bay of Angwi Bay of Drel Blue Lake Blue Lake Crossing Bragolsîr Central Maldor Cleft of Goats Cupiga Witu Dor Alagothrim Drel Basin Elornan Cut Elornan Shore Elornan Swamp Elornan Wetlands Falas Belegaer Misty Hills Ethir Aronyar Fields of Maldor Goldplains Gubu Rungi Hills of Eloro Hills of Wûm Hyarnustar Coast Kurryian Bay Maldor Malinelanta Metharn Miriant Onpu Aeluin Onpu Mispír Pel Bight Pel Hills Pel Stairs Phazâtthâni Plain of Araden Seregul Silent Hills Silent River Snakehills Silverbridge Silverbridge Pass Sîresham Snake Inlet Sûlcoron Emyn Eloro Suriva Tathom Taur Galen Thontaur Thunder Low Tôl Turgul Urîd Pharazânî Usíra River Valagalen Valagalen Bight
Settlements and Points of Interest
Aingalad Alsarias Arig's Tomb Arpel (Katerre) Arvarien's Maze Bar Araphor Barad Angwi Blackflame Black Spire (Mornetildë) Caras Metharn Castle Youngaxe Cave of Clouds Cor Minyadhras Derei's Tunnels Elornan Cut Ereg Eiren Eregos Esupel's Tomb Fal Carth Gobel Metharn Hall of Alûva Hall of Malkôra House of the Black Hand Jocadogo Karas Angwi Karasalas Karas Metharn Karas Nul Khorsâj Kondu Manara Lair of the Black Dogs Lair of Esupel Lair of the Rain-Drake Lightning Head Lighthouse at the Bay of Octopuses Lond Anárion (Caras Hyarn) Lond Hallacar Lond Hithir Malmerion Marath Kharadûne Marath Seregul Mindo Hargrog Mindo Malezaro Minyadhras (Mount Unicorn) Mispír Mor Tarain Naragul Naurlindol Nísilokë Norjadar Orp Angwi Orp Mava Orp Muva Ostelor Reshani Ró-molló Ruins of Unulló Seregul Keep Sighing Springs Sondru Spire of the Flame Tathorn Three Sisters Trenth Trenth Walk Twin-gap Umseder Ûrlond Warch at Unulló Yellow Break Young-Axe
Roads
Cave-Way Drel Way Elorion Highway Fuina Trail Marshway Men Miredor Pel Road Trenth Road
Peoples
Elves: Cuind (Fuinar)
Black Men: Adena, Drel, Elornans, Magri, Pel, Sederi, Tuladan
High Men: Black Númenóreans (Gimilthânians, Kharadûnians, Zimrathânians)
Drûghu: Chaialla
Organisations
Army of the Southern Dragon Black Hand Carashirs Court of Ardor Cult of the Dark Overlord Desert Screamers Divine Speakers Masters of the Golden Eye Monks of Ereg Eiren Monks of Mor Tarain Order of the Southern Dragon the Real Fire Society of Derei Southern Slayers Valdacli Warders of the Night
Kelvar & Olvar
Creatures
Black Dogs Cielimba Dubanari Cliff Lions Curin Pelevag Oliphaunt-Dogs Fell-turtles Grey apes Lion Hounds Mûmakil Nomikons Ormakûla Slow-fangs Trusavi
Plants and Fungi
Akbutege Alambas Balaak Bamboo Black Cypress Curfalaka Ebony (Usamiti) Goldwood Hearty Redwood Gort Hemlock Mahagony (Cainimiti) Niasi Rhododendron Rosewood (Shadamabo) Slird Tarnas Teak (Gurmamiti) Welwal Witav Yellow Hemlock
People of Note
Ainur: Elenala Tredeinos Xarbanisan
Dwarves: Frór V Háin Vafnir
Elves: Curugond Elor Erocil Marwë Ruindel Terilaen Ufëa the Laugher Ulcamer Uromiel Vaal Gark
Men:
Black Men: Agoth Arcil Arig Calin Wip Cluth Daroc Derei Epef Es-amu Esfur Eshapar Geel Hembur Smep Hylee Hyris Ikûr Karaag Ló-desmic Lomiran Lomkuran Loris Malezar Ne-baraca Ne-eslem Ne-ula Ne-wull Orcir Ricenaris Sancalis Slûcrac Ulcathur Ulfacs Ulrith Ulugu Umbin Swê Urlaca Uthmag Wimbur
Black Númenóreans: Acuturion Akhôrahil Akhôraphil Araphor Arcastur Ardukhôr Ardulion Arkhahil Arolic Arthrazoc Arvarien Camëar Ciryamir Ciryatir Elorion the Elf-friend Er-Imrazor Erarnil Esgaphor Herundil Imralion Imrazôr I of Zimrathâni Imrazôr II of Zimrathâni Imrazôr I of the Valdacli Imrazôr II of the Valdacli Imrazor III of the Valdacli Lôkhazôr Mirion Olorakhor Phorakôn Sakarphor Seregul Talagani Tar-Raumoher Ûndaphel Wyatan
Trolls: Hargrog
Other: Durnan Malezar Mûagar Orfarfor
References
Community content is available under
CC-BY-SA
unless otherwise noted.