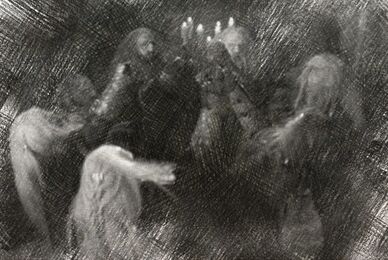 The seven fathers of the Dwarves are:
The Rebirth of Dúrin
The inner Traditions of the Dwarves handed down that Dúrin the Deathless would return seven times within the line of his Tribe, each time a Dwarf would be born who bore such a strong resemblance to the Father that he would bear his name and count as Dúrin's reincarnation, other Traditions however explained more accurately that Dúrin would not be reborn but arise six times from his grave in renewed youth.Some Scholars believed that this was a special gift which Eru gave to each of the seven fathers.
Notes:
The names of the seven dwarf-fathers differ in MERP and the Lord of the Rings Role-Playing Game, MERP names them Dúrin the deathless, Thrár the cold, Dwálin the Wise, Thélor the rich, Bávor the swift, Drúin the proud and Bárin the scarred while LOTRRPG names them Dúrin, Úri, Linnar, Sindri, Thúlin (or Vanhä Isä), Vár (or Sadal) and Vigdís (or Malin).Like Dúrinn (sleepy or gate-warden) the names Dválinn (Dawdler), Þrar (stubborn) and Bávorr (grumbler) are old-norse and taken from the Völuspá or other old norse sources as the Þulur while Thélor, Drúin and Bárin seem to be fantasy-forms (though Druin might be Gaelic and Barin Sindarin). Úri (smith), Sindri (Sparky), þulinn (Chanter), Varr (careful) and Vigdís (War goddess) follow the example of old norse names from the Eddas (although Varr and Vigdís are female names and thus seem unsuitable for dwarf-fathers) while Linnar is obscure and may also be a fantasy form just like Thélor, Druin and Bárin (Linnar is a modern swedish name that may be derived from the old norse name Lindorm or the finnish boy name Lennar, the finnish writing of the germanic name Leonhard.Since Lindorm actually means "Dragon" or "Serpent" it would be an odd name for a dwarf).Malin may also be a fantasy-name or an old Norse form derived from mál ("Málin" also is a scandinavian female name derived from Greek "Magdala", which would also seem unsuitable for a Dwarf-father) or a Name of Avarin origin.
Perhaps Dúrin, Dwálin, Thrar, Bávor, Úri, Sindri, Thulin can be interpreted as the Names of the seven fathers as they were told to the Northrons while Thelor, Druin, Linnar and Barin were the outer Names of Sindri, Thrár,Dwálin and Thrár known to the Easterlings or Elvey.Málin, Vár and Vigdís perhaps were powerful Queens, once leaders of their tribes, which mannish legend confused with the fathers Bávor and Thrár.