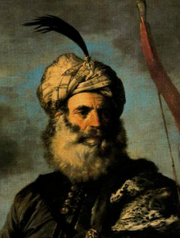 Serifés of Harad was a Harûze Prince who claimed the throne of Umbar in TA 1854, marking the end of the line of Castamir's heirs and gondorian-Exiles to rule Umbar and the beginning of a new generation of Corsairs of Umbar who were of Haradron-heritage.
His ascend also initiated the exodus of most of the last Umbareans of gondorian descend into other regions of Harad.
Notes
Based on:Middle-Earth Down Under: An Antipodean Campaign by Norman Talbot (Department of English, The University of Newcastle, University Drive, Callaghan, Newcastle, NSW 2308, Australia) ©1994 Norman Talbot; first published in Other Hands 4.n
Community content is available under
CC-BY-SA
unless otherwise noted.