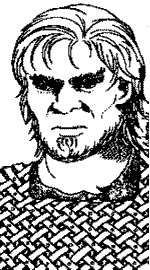 Seammu
, a
warrior
of
Hillman
-
Dunnish
descent, was
Captain
of the regular
Guard
of
Cameth Brin
.
He had seen many rulers come and go, and long ago learned it was safest to be despised by all and feared by none. With half-Dunnish, half-Hillman roots, Seammu had maintained a servile and craven attitude that irritated everyone. He was an effective administrator, but had little imagination.
Notes
The Name Seammu may be derived from gaelic Seammus, the irish form of James.
References
MERP:Hillmen of the Trollshaws
Community content is available under
CC-BY-SA
unless otherwise noted.