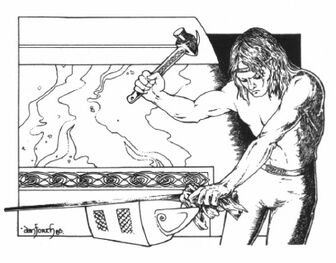 Sûlcû
(Av."Wind-Arch"; PQ."Súrkûna"; Q."Cúsúrinen") was a legendary
elven
-
smith
, a pupil of
Curufin
, 
Feanor
's fifth son. After the tragedies of the
First Age
, Sûlcû seems to have fled into the
Utter East
and probably found refuge among the
Avari
elves.He was the creator of the
Ayîg Khig
, the great forges in
Aegan
and probably was the teacher of the
Wômaw
-smiths who, with his knowledge, created the famous
Sôeyaed
("Dragon-helms").It is unknown what happened to him after the Avari of Aegan and
Khelkâ Sael
had returned to the realm of
Helkanen
, due to the growing influence of the
dragon
Utumkôdur
over the forming Wômaw-reach.
Community content is available under
CC-BY-SA
unless otherwise noted.