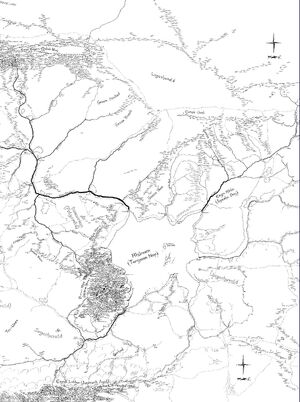 Rhûn (S. "East";sz. "Uldona"), sometimes known as Near Rhûn (to differentiate the former Gondorian Province from Rhûn the Great, the widely unexplored east of Middle-earth), was a vast region of over 325,000 square miles. Most of it was open territory – covered grasslands of varying quality. Western Rhûn was dominated by mountains, rolling hills, and river vales near the Inland Sea of Rhûn (S. "Rhûnaer" or "Nen Rhúnen"). Numerous rivers – including (clockwise from the northwest) the Celduin, Kug, Sûrûbeki, and Warwater – fed this great sea, which was the largest inland body of water in all of Middle-earth. The Eryn Rhûn (S. "East[ern] Forest") covered the entire Kug Valley. Over 100 miles across, it stretched over 50 miles northeast of the Nen Rhúnen.
Near Rhûn was home to myriad peoples. Ulgathig-speaking tribes typically occupied over half the area, including the eastern and central reaches. Ioradya-speakers usually dominated the southern steppe-lands. A mix of groups, of which the Dorwinrim were predominate, lived along the northern and western shores of the Inland Sea.
Regions and Bodies of Water
Angren Ardruiga Athorn Barren Wastes Bay of mistrand Blázar Boldolon Bozorganush Brilthen Cairn Angle Carnen Chain of Blades Dacranamel Desert of Rhûn Dínen Dobok Bron Dobok Rhín Dónu Doroth Dorwinion Drum Mountains Eastern Wastes Emyn Engrin Far Fields of Rhûn Fehiz-kimos Fiskastaiga Fola Agach Fola Agath Fola Athorn Fola Gweletha Fola Kolamok Fola Nagadar Fola Salenin Fola Szem Garglar Gathod Gazar Barak Gazar Gord Gazar Ibar Gazar Narkad Gazar Utal Goda Sarkar Grob Norachd Gull island Gweleth river gorge Harrhûn High Hand Hills of green moss Horseplains Iron Hills Isles of Rhûnaer Kug Bay Kugathavuld Kuka Posladni Latân-Uzg Logathavuld Low Doroth Londu Country Marakai Maraki river Mayzri archipelago Menelothriand Morad Mountains of Rhûn Mouth of Vol Kug Nameless Plains Nan Morsereg Narimanush Outpost Island Parta Rokantha Pinnon Rhun Rhûnlen Riav Rhûnaer Sagathavuld Shleter Sorna Sorona river Sûrûbeki Swamps of Agasha Dag Tainen Taj-Ures Neldoreth Thunderjaw Tol Sûlereb Tunderdu Twilit sea Uial Uldona Ulumur Urgathavuld Valley of Azan Vol Kug Warwater Wornpoints
Settlements and Points of Interest
Before TA 1640
Adumovas Agach vale Algiwidaus Bundusulzinbar Citadels of the Earth-mother Donu river ferry Dradorny-Arnas Falek-im Hathur-na-Bundurok Kablik-madur Khurvasagh Korlanas mound Lokuthors temple Nomida-nar Szrel-Arkasa Zinaramahal
TA 1640-1650
Adumovas Aldena Toron Alila estate Althrith Andarimn Asanori Ashkirir Askal Astrel Azanulinbar-dûm Bar-Lithyrn Barad Ithil Barak-Shathûr Barukkhizdín Borkep Var Brimble Gadrauhtsbaurg Borkep Var Burh Gram Ermanareiksbaurg Marhungibaurg Buhr Maridais Paidareiksbaurg Burh Sagath Bundusulzinbur Caradsurga Caras Falathrim Caras Sant Carvarad City-of-slender-spires-reaching-to-the-light-of-the-bright-stars Crim Crispa Daranel Toron Deneral Dilgul Dol Calemir Dollantir Eldrast Elgaer Endelmir Enmahadh Falek-dim Far Bank Fokerdo Forodim Galgorin Gastwolk Gaurblog Lûg Gazu Darshan-Zar glade of death's sorrow Green mines green moss caves Grob Norachd Gyogarasag citadels Hallorn Haradruin Hathur-na-bunderok Ilanin Ily-amana Ironthorpe Kablik-madur Kabrisulzinbar Kaerst Kalperia Karna-tapar Kardavan Karfas karna-tapar Karvod Kelepar Kheled-nâla Khurvasagh Kilindrow Kirikhgathol Kugavod Kuka Posladni Kûrk Kûrk Arkasa Laorki Lar-Huil Lar-Hûz Lar-Sagra Larisa Toron Lest Logath Camp Lostarfarn Mael Maltir Mares Marzgûr Mattaram Meldin Meszepar Mildvan Mill's End Minas Rhovanion Miraearon Mirearon Mistrand Nahald Kûdan Nan Morsereg Nomida-nar Nurunkkhizdín Old Plow Inn Old-spirit-with-the-beard-of-thunder Or-Sarn Oraishapek's Mound Ost-in-Ery Palcana Pardfan Pargeltir Pelenwod Rathmere Rhubar Rhunea Rhunost Riavod Riavok Romenost Sadvar Saelin Sant Annui Scari Scarn Shazril Shrel-kain Shrel Arkasa Steinah Westa Thorontir Thunderjaw Tol Sûlereb Toltalvos manor Torony Borton Tundera Var Tunderdu var Uldonavan Uldonavan Ford Ursh Lanna Vadran Warfinger Weld Wintirion Iaur
TA 3018-3019
Acadia Amandos Anandos Aranor Balchoth Camp Bandit's Hill Bâr-shûal Barazahar Brior Buan'Dornoth Byrhu Calmari Chain of Blades Ciranthir City of Ulfast Derenost Dourband Dwelling of the elders Easterling Camp Erebost Eye of Rhûn Galmor Gazu-Darshan-zar Gyagorasag Sanctuary Haevod High Reach Hunthlaburg Iorag Camp Jizhníkemp Joghul's Shrine Khular Kravod Lhanzaghad Lhûg Logath Camp Lonsdale Lukren Mansion of Iaur Mattaran Menser Morgos Mûldin Northing Bay Orint Orûna Pallatar Pamatoval Krivdy Raider Hold Rhiabar Rhomen Rhunea Round Barrel Inn Rüzgar Duvar Sinir Tanar Tazlure Temple of Lokuthor Thakalar Tharzoal Thausedir Tinmin Tset-Habaor Tset-Hedren Tsnndavayr Tuaremindon Tufak Ulmar Várfest Varení Pomsta Vecny Zást Veil of Tears Veyter Vokloax Wizard's Vale Wolenes
Roads
Narsza Trador trade road Winithos road
Peoples of Rhûn
Men:
Orcs:
Groups and organisations
Asdriag priestesses Bromarja Corsairs of Rhûn Council of clans Cult of the tree Disciples of Kerkassk Gyogasarag herd-lords Highland rangers Ilanin guards Kaloz-vadasz Kharg huka Khulpova kosvar's pirates Matriarchs Osvoda-thi Priestesses of Gazu-Darshan Zar Rachorod Ramanin Ri-anov Stonebrow Brothers Thyns Vabnadur Viszater-dyzo Wine-merchants guild Winithos Worship of kerkassk
Characters
Ainur:
Aldena Donu Fala Great shaker Kerkassk Kragul Montia Quelbaras Rakadsaol Rakana-kiral Vadan
Dragons:
Kraszapol Sakarod
Ents: Willowshanks
Undead:

Gurthgûl Kasagul Mauhoshat The Sixth of the Nazgûl Némol of Dír Oraishapek of Dír The Ninth of the Nazgûl
First Age
Dwarves: Runin the Headstrong
Second Age
Dwarves: Relin son of Rulin Relin son of Runin
Men: Ardatha Szrel Ardatha X Droza Kadar Kasagul Hotun Khorgul Hotun Korlana Szrel Korlana IV Lokor Szrel Lokor XII Lokuthor Markova Szrel Muhlmek the Strong Oraishapek of Dír Tarnesus Polsa Yorga Hos
Third Age
Before 1640
Dwarves:
Glavin Orin Thelor XIV Thralin the young Thralin IV Threlin Thrîs Thúlin Thulor II

Men:
Achimow Shulv Agonoth Caros Atyoli Sahd Berul Rhidon Caros Dailhailia Ciryayar Diomav Feluv Evik Polumas Frumigais of House Ciryayar Gaerandil Ciryayar Grachev Hôs Gulthawini Frik Herufara Cirya Hôs Kharish Ibar Laif Barlin Montal Edru Nomid Akhev Shivala Sulv Yanos Kosvar Yorga Hôs
Orcs:
About 1640
Dwarves: Azan Stonebrow Glavin Stonebrow Orin Stonebrow Nárin Thrálin the Wanderer Thulor II
Men:
Edain:

Brean

Diomav Feluv

Donath

Deoric the Boatwright

Evin Toltavos

Frumigais the Secretive Gaerendil Frik

Gregor the Butcher

Grigor Dolin

Gulthawini Nivi-Frik

Guntherof

Hitav Yurna

Barolinnia Duvorn

Larsa Broen

Mertol Kosov

Morlammen
Easterlings: Avas I

Avas II

Avas III Borhan

Djerul the Seer

Ethacali the Dark Mage of Rhudaur

Faruq Akara

Gorovod Grasty Hos Harf Hûz of Amôv Kadida Kav-Makôw of Gathod Nazrog

Nisa Ibar

Pos Ari

Rof-Paku the Spy

Taran Karkuva

Trôs-Hesnef of Ilanin Ulrac Urdrath of Nûrad Viosiol
Orcs:
Gabmog the Dimwitted Mornadak the Young
TA 2950-3019
Dwarves: Balfor Faldor Fari Nari
Men
Easterlings: Amdûr Argaz Avos of Îgath Borthan the third Hûz Dasakûn Gartog Gorovod II Harizän Juganoth of Rhûn Makôw of Rostamush Lorgan Maraz Naldurgarth of Rhûn Nevido Smôd II Meonid of Ashkirir Mîonid II

Ogedei

Pos Art

Rôf the Maiesk Rozi

Sharikan

Sherkóz Tarôk

Tiglin

Ulda-Trosh Tumna Uldor Ulfand Ulfang Ulwarth Urdrath Usriev Warlog

Xaradra
Orcs: Gabmog the Dimwitted Hugratol Skargnakh of Barad Wath
Fourth Age
Men:
Easterlings:

Brûdhan

Khôragan

Sâmêl
Olvar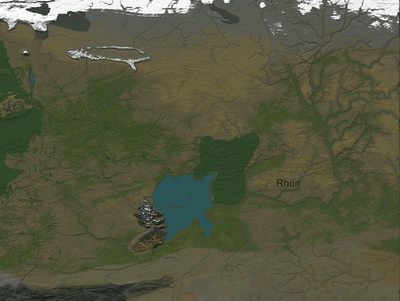 Asanori Rose Beginini Calquentia Common Wine Deneral Red Dralbientu Flagrianti Huorns Lorlea Gwent Malifique Puenta White Renor tree Tallgrass Vegetables
Kelvar
Aflifnanians Angaunaiwëli Antelopes Aquatic lizards Ar-Nadrhach Aurochs Bats Bees Birds Bitterns Black Bears Black Mink Black swans Blue otters Camels Carps Coots Cormorants Crabs Crakes Culcarnix Dark-maws Deer Darkwolves Ducks Echuiriolath Elk Elven Horses Fell-beasts Fen boar Feral dogs Foxes Hill Goats Fish Fishing Cats Flying foxes Giant bats Giant hellbender Giant martens Great Elk Great Spiders Gorcrows Great Boars of Rhûn Great Buffalos Great Crows Great Sturgeon Grey Fox Grey Wolves Gulls Highland Lynx Hillbeasts Hill-Foxes Hill Grouse Hill-lizards hornets Horses Hounds Iorfur Iron Hill Beasts Ironfold Beetles Ironfold Burrowers Ironfold Workers Kine of Araw Kingfishers Kraken Lampreys Land-Drakes Leeches Losrandir Mabolmaeglim Marshdragons Marsh mastiffs Merisc Tyka Migratory fowl Moor-rats Moor-shrews Mungos Natharin Northern Hare Northern Viper Pards Pikes Plains-Cats Plains Ponies Ravens Red Wolves Rodents Sabreteeth Scrubland Lynx Scrubland Wolf Sea-Carchadils serpents Shellfish Short-eared owls silver sturgeon Small fish Spotted Panther Stone-biters sturgeon Thrushes Turtle-fish War Dogs War-wolves Water drakes Watterfowl Wild Boar Wild Cats Wild goats of southern Rhovanion Wild horses Wild sheep Wolf Spiders
Other Creatures
Drakes Forest-trolls Hill-trolls sea-serpents Undead Werewolves
Timeline
See:
References
MERP: Middle-earth Adventure Guidebook II
MERP: Campaign and Adventure Guidebook
MERP: Northwestern Middle-earth Campaign Atlas
MERP: Perils on the Sea of Rhûn
MERP: River Running
The Wild Lands South and East, Gazetteer by Pete Fenlon (archived, latest available)
MERP Fan Modules: The Inland Sea, by Mike Campbell, Luke Potter, and Justin Morgan-Davies.
MERP Fan Modules: Khand, by Jesse Dallin.
MERP Fan Modules: The rise of the Golden Army, by Christian Haas.