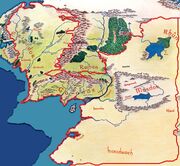 The Reunited Kingdom (W."Ârûthân Tantâyata" or"Ârûthân Sattasâma") ,also known as the Great kingdom (W."Tûcârûthân"), was the realm founded by High-King Elessar in the fourth Age.The Reunited Kingdom comprised the ancient terretories of Gondor and Arnor, with their former provinces Angmar, Enedhwaith, Harondor,Near-Harad, Umbar and Dorwinion as well as Mordor and Núrn and tributary realms in Southern Rhovanion, Haradwaith, Far-Harad, and Rhûn as far as the Far fields of the East and Menelothriand.It's four main parts or subdivisions yet still were known as the Northern Realm (W."Aphôrothân",later also known as "Adûngrad","Western Provinces";most of Arnor and Enedhwaith), the Southern Realm (W."Ahârathân",later also known as "Tôlegrad" or "Entêgrad","Central Provinces";Gondor, Harondor and adjacent lands), the East-Provinces (W."Azûlgradi";Rhûnaer and surrounding lands) and the South-Provinces (W."Ahâragradi";Umbar and Haradwaith).As the memory of a once divided Kingdom faded throughout the fourth Age the Reunited Kingdom eventually became popularly known as the twin-kingdoms (W."Satta-Ârûthâni").
Rivals or enemies of the reunited Kingdom were the "Collusion of the Ûsrievar" (formed by Vacros and Itana Ovon and later led by Brûdhan and Khôragan) in the East, uprising Lords forming an empire in Harad (among them Azranû, Caiode, Felês, Sorthog and Selâth) and Adûnabâr in former Mordor as well as secret cults and organisations from within as the Derngorgor, the Black Cartel,the Pirates of Belfalas and the Cult of Herumor. 
Major Provinces
The old traditional Sindarin names of the royal fiefs were still used in official documents, in everyday life however the Westron names were common.
Rohan (W."Lôgrad"), the Northern Anduin Vales (W."Phôringulin-Tûkahûrushian"), Lórien (W."Lûranu") and the Great Greenwood (W."Kalentazai"), East-Bight (W."Dûbazûl"),Lindon (W."Linthônan" or "Nimruthân"), the Barding Lands (W."Zagarulgrad" or "Turgulgradin"), Brown Lands (W."Barandalanin"),Isengard (W."Angûlpand"),Fangorn (W."Tazaturg"),Núrn (W."Nûrgrad"), Drúadan Forest (W."Tawri-Drûadânaian"),Drúwaith Iaur (W."Zaradrûlai") and even Khand (W."Variagmâr") and the Shire ("Yôbanakilian" ,W."Gift to the Halflings", or "Payasûzakudukian",W."Independent Region of the Hobbits") were never officially parts of the Reunited Kingdom but were seen as "Allied Realms" and "Independent Regions".
Major Settlements
Kings of the Reunited Kingdom
See:
I
Eldarion Telcontar ("Nimirêd")
I
Elessar II Telcontar ("Nimirbor")
I
Elendil Telcontarl ("Nimirbêl")
I
Isildur Telcontar ("Nilbêor")
I
Anárion Telcontar ("Urûrêd")
I
Arathorn III Telcontar ("Tûranark") 
I
Hyarmendacil III ("Avalnar Akhâragast") 
I
Eärnil Telcontar ("Azarbêl") 
I
Telumehtar Telcontar ("Delgubatânard") and Eärnur Telcontar ("Azrubêor") 
I
Arvedui Telcontar ("Tûranneg") 
I
I
Eärendur Telcontar ("Azarbêor") and Targon Telcontar ("Tûranbor")
Demography
Population in F.A. 200
~26.000.000 men, ~10.000 dwarves, ~150 elves

Population in F.A. 120

~17.000.000 men, 

~15.000 dwarves,  

~250 elves

Population in F.A. 50

~10.000.000 men, 

~17.000 dwarves,  ~ 500 elves
Characters of Renown
Adelbard Tuckborough Alatar Alphros Amlaith Telcontar Anárion Telcontar Aragorn Elessar Arathorn Telcontar Arvedui Telcontar Arwen Evenstar Barahir of Ithilien Bard Dwarf-friend Barfka Beleg Telcontar Beorn II Berelach Beretar Badlands Bergil Berúthien Bilbo Gamgee Borlas Brago Tuckborough Caiode Carnil Celandur Da´n Daisy Gamgee II Darien Deneldír Diamond Took Druin the Proud Durbuhuk Dúrin the Deathless Eärendur Telcontar Eärnil Telcontar Elanor Gamgee Eldarion Elendil Telcontar Elerior Elessar II Telcontar Elfstan Fairbairn Elfwine Elphir Encalion Éomer Éadig Éowyn Éomund's daughter Faqir Faramir of Ithilien Faramir Took Fastred of Greenholm Findegil Firiel Fairbairn Frodo Gardner Gargush Gimli son of Glóin Goldilocks Took Gorron Harding Gardner Herumor Huntan Hyarmendacil III Ikgor Isildur Telcontar Itana Ovon Kadak Kur-Tuk Kôma Lîgrash Lindenar Linuile Lothíriel Lurd Meriadoc Gamgee Mahtûn Mirag Moran Morelen Mozgog Múldec Namu the Rain-man Nandar Narkga Nurl Onree Ordelred Tuckborough Othrondir Pallando Peregrin Gamgee Peregrin Took Puil Randae Terisonen Rask Rekka Rhamûn Rose Gamgee II Saelon Samwise Gamgee Saradoc Brandybuck Sen Kay Sérëdhiel, daughter of Elrohir St'e Swinky Taladhan Targon Telcontar Telumehtar Telcontar Thelor Thórin Stonehelm Thulin Tobold Goodburrow Tol-Tuk Tolman Cotton I Tolman Cotton II Tolman Gamgee T'revor Arain Ulwarth II Urfa Úri Urmek Utsar Uunk Valamir the Younger Valros Volog Vôrn Waren Wilcome Whitfoot
Community content is available under
CC-BY-SA
unless otherwise noted.