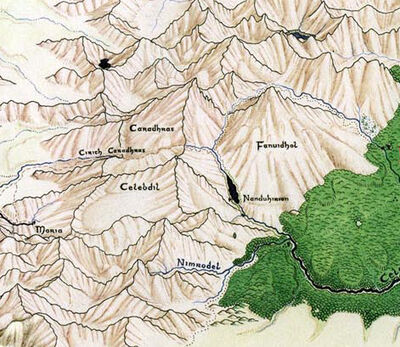 Also called the
Cirith Caradhras
, this
passage was used by the first Dwarves to enter Eriador. The pass actually was situated between the peaks of Redhorn and Cloudyhead on the north side and Silvertine on the south. On its eastern side, it dropped into the Dimrill Dale (S. "Nanduhirion"), and travelers could then pass along the western edge of the Elven kingdom of Lorien and into Gondor. The Dwarven city of Khazad-dum lay beneath Silvertine, with entrances on either side of the mountains; Dwarven travelers were be able to take this subterranean route and save time and effort .The pass across the Misty Mountains in the vicinity of Khazad-Dum was named for the highest peak in northwestern Endor. Those not fortunate enough to use the road under the mountains had to travel by this winding and dangerous pass. The Redhorn Gate was blocked by snow during the winter months and was difficult for wagons even in excellent weather. On the positive side, the pass' proximity to the Dwarven folk resulted in very few Orc attacks on those who made the crossing.

A secondary route, the Cloud Pass (S. "Cirith Faniun"), on the eastern side of the main ridge of the Hithaeglir, wound between Redhorn and Cloudyhead, allowing a traveler to avoid the Dimrill Dale. It then merged with a path along the northern fringe of Lorien in order to enter the northen part of the vale of Anduin. Melkor, the fallen Vala, had called upon many Maiar to aid him in the raising of the Hithaeglir. Unknown and unknowable to most mortals, one of them was entombed within the substance of Caradhras. In essence, the mountain was a sentient being; it was virtually always asleep and effectively blind and deaf by mannish standards, but was capable of affecting the substance of its own mass and the air around it using what mortals would have consider to be magical means. The spirit of Caradhras had little interest in the events of the world, and typically undertook to think and act only when prodded by powerful sorcery. The only grudge it carried was against the Dwarves who were digging at its roots to obtain the rare metal mithril. The Khazad were careful not to speak ill of the mountain while they were working under it or traveling over it. They kept their mining tunnels within Caradhras small and clean of debris. It was considered the best policy among the Dwarves to do nothing to gain the mountain's attention
Community content is available under
CC-BY-SA
unless otherwise noted.