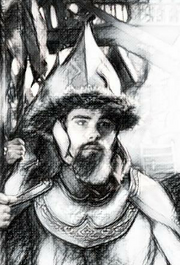 Ragnar was a man who was appointed by the Office of the King's Notary to seal and witness wills, affidavits, and the like. He knew a great deal of useful information, but was extremely discreet. His offices were large and on the edge of the Merchants Quarter of the city of Dale.
Notes:
In the original supplement this character was named "Ragnir" and borrowed from the MERP Tharbad module.Here instead a norse name is proposed.
References
A Guide to Dale and Surrounding Lands by Richard Harrison for the One Ring Role-playing Game
Community content is available under
CC-BY-SA
unless otherwise noted.