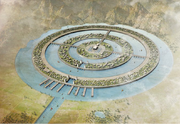 Rómenna (Q."Eastwards") was the great haven on the east coast of Númenor.
Places of Note:
Beacon Isle
Elendil's Hall
Great road of Númenor
Hallow of Erendis
House of Vëantur
seaport

Seat of the Guild of Venturers
Shipwright's Guildhall
shipyards
Vëantur's Quay

The sea-walls
References
MERP:Northwestern Middle-Earth Campaign Guide
Read SU 268,272-3,275,279; UT 165,169,174-5.179-82.186.191-2, 195. 201, 212. For Firth of Romenna, read UT 165. 174; for Bay of Romenna, read UT 176.
Community content is available under
CC-BY-SA
unless otherwise noted.