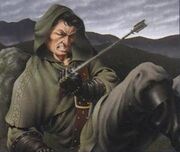 Pelisor was a Ranger of Arnor who was engaged to Elladrien. He was part of the Company of the Rangers of the North who guarded the Shire's southern bounds. When the Nazgûl entered the Shire and broke the ranger's lines, Pelisor survived and hid in the Green Hill Country.
References
Interplay's the Lord of the Rings -Game I
Community content is available under
CC-BY-SA
unless otherwise noted.