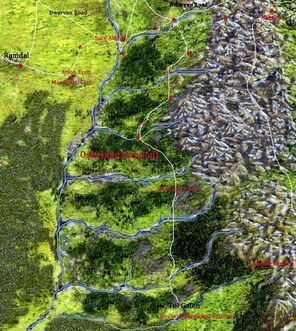 Ossiriand (S. "Land of the Seven Rivers", also "Ossír", Os. "Ossîrin" ; Q. "Otssiriande") was the land between the rivers Ascar and Adurant, including the rivers Thalos, Legolin, Duilwen and Brilthor. The seventh river was the Gelion herself. Even riven by the Gulf of Lune in the Second Age, this name was still used as an occasional synonym for Lindon.
Regions
Adurant Ascar Brilthor Dor Firn-i-Guinar Duilwen Gelion Legolin Thalos Tol Galen
Places of Note
Celon-Gelion Orc-Camp Denethor's Hall House of Beren and Lúthien Lanthir Lamath Sirion-Narog Orc-Camp
References
Jeff J. Erwin:A Traveler's Guide to Lindon
Community content is available under
CC-BY-SA
unless otherwise noted.