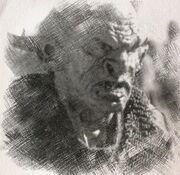 The Orcish Trackers (Or."Gayirmi") or Snufflers (Or."Smakurr") were a special breed of lesser Orcs.They were small, swarthy and squat with wide nostrils and had a superior sense of smell.They were skilled Hunters, Archers, Scouts and Spies.
See:
Games
MERP
In MERP orcish Trackers are also known as Gajirm.The Ilguz of Gundabad are of this kind.
LOTRRPG
In LOTRRPG the orcish trackers are equated with the wood- or forest breed orcs.
LOTRSBG
In the LOTRSBG orc Trackers are a special Unit of Mordor.
fan fiction
Some fan-fiction stories set in Middle-Earth give the orcish Trackers the name Gimba-Hai ("Finder-People").
Trackers of Note
Community content is available under
CC-BY-SA
unless otherwise noted.