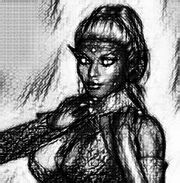 The O'ô'Pendi (S Av."Ocean-Elves") were a tribe of eastern Elves originally inhabiting the Haldrim-reef and the Ulmic-coast on Southernesse's great east continent.They were believed to have once taught the Dolphin's to sing.They were believed to have all been massacred during the mannish invasion from the Harad lands in TA 1089 (Year 190 in the reckoning of the Girtfolk).The men of Southernesse still believed the Dolphin's habit of singing and following greater ships was their mourning for their lost teachers.
Notes
Original name:Sea-Elves.
Based on: Middle-Earth Down Under: An Antipodean Campaign by Norman Talbot (Department of English, The University of Newcastle, University Drive, Callaghan, Newcastle, NSW 2308, Australia) ©1994 Norman Talbot; first published in Other Hands 4.
Community content is available under
CC-BY-SA
unless otherwise noted.