Naragûldûm
(short
Naragûl) /or Naragbarûz
(Blackflame)) was located in the
utter south
of
Middle-Earth
, in the
Urîd Pharazâin
the southwestern chain of the
Yellow Mountains
, in the land of
Pel.
The Region was under rule of the Dominions of the Seven (Ad.
Thâni-Hazâd
).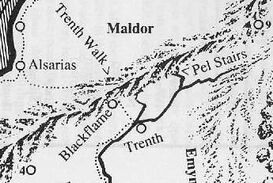 This large dwarven war-hold was established by
Axes of Nargubraz
and served them from T.A. 2850 to
T.A.3020. Thereafter it was sealed and left alone.
Notes
ICE name/creation (Blackflame - in Shadow in the South)
References
Other Minds, issue 4, 2008: A Brief History of the Dwarven Mansions
Community content is available under
CC-BY-SA
unless otherwise noted.