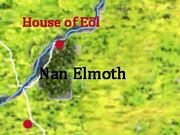 Nan Elmoth was the forested vale east of the river Celon where Elu Thingol was enchanted by Melian and lost; afterwards it became the dwelling-place of Eol.
Places of Note
Inhabitants
Aredhel Blodrin Eöl Maeglin Lómion Narthseg Ufedhín
References
Read SUSS, 58,92,132-6.142.202.234.
Community content is available under
CC-BY-SA
unless otherwise noted.