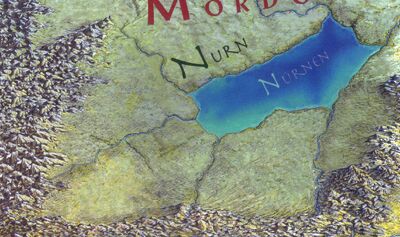 Núrn (BS."Nurza-Shukh"), the "Sad Land," constituted all of southern and eastern Mordor. A semi-arid plateau, it served as the breadbasket of Sauron's wicked kingdom. Its numerous Hildo inhabitants, most of whom were enslaved, included the Mordorin- and Nûradja-speaking tribesmen indigenous to the Núrn Basin.
Regions
Auducar Núrn Caradhram Núrn Den Núrn Ered Angurath Ered Glamhoth Forest of Carnan Ghurzun Gurthrant Maegond Nargil Nargil Pass Núrn Basin Núrn Plains Núrnen Slave Fields Tol Núrnen
Settlements
Bar-Dúath Barad-wath Burch Nurn Buth Ovaisa Caran Cirith Núrn Culduin Eastern Guard Garnagom Kaalezh Kûl-Tarkorûl Lug Vrasfotak Luglûrak Núrgost Nurumurl Nurza-Shûk Ost-Núrnen Rûl Rûm Samkara Sturlurtsa Núrn Tegarmaglûr Thaurband Virk-Ulgath Zarok Ioriag
Characters
Guarthoth Magergoth of Burkh Núrn Viosiol of Mordor
See:
References
the Wild Lands south and East, Gazetteer by Pete Fenlon
Community content is available under
CC-BY-SA
unless otherwise noted.