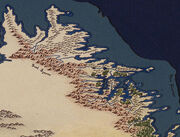 Located north and east of the Barl Syrnac, western branch of the Iron Mountains, Mur Fostisyr (Syr. "Land of Blue Light") was a collection of rugged isles and peninsulas. Covered with tundra (in the north) or taiga (in the south), they served as the home for scattered bands of Mornârin-speaking nomads. These hunters and fishermen often ranged well out onto the adjoining Gulf of Ûtum.
Settlements and Places of Note
Âlk Gâth A-Anâr A-Tykâr Brya Sug Fustir Village Garaz-khamil Itarân Jand Narain Kaldarâk-Vâr Ky' tal Quarries Lu'nak Navigator Obelisks Oond Tyygk Palace of Atârn Quellbourne Rapata Svedra Tyygk Syclax Syrkakar Systax Târtayn Taurkytâl Tharg-Yironak Uda Týgk Var Ukâg Vurn Kye Wasyclax Watchtowers
Regions and Bodies of Water
Adea Hu Black Fork Mountains Fosark Ay Fuir Gâth Ku Gosti Hyr Harl Syrna Hegra Surm Kanga Syrn Ky'târi Shay Kyvinâr Mur Brya Mur Fustir Nay Fostisyr Saralis Syrkya Talirân Ukur Forest Urm Lyvug Von Syclax Vorganis Cas Yalf Hurm Yalf Yorn Yalg Kusir Yalg Kway Yalg Syclax Yon Vu Zjethrin Zyeth Hýd
Characters
Aantor Aara Aasan Aratur Arduvaal of Vraniis Arnak of Gaath Astaur Athimurl Ayric Chintakari Chryaaktar Darath Deniroik Elor Gaath Irista Jaed Jalor Juka Jyka Brust Kufina Lahira Gul Laran Muul Chort Oran Jatar Rogir Ryykaar Saaymog Susymog Talfar Tanhuz Tarfoth Tarlen Thalfaan Ugus Dyr Ugus Fost Uka Closk Valkir Wudus Pode Wylzun Yarthraak Ydirak
Creatures
Antelopes Arctic Seal birds black Hawks Desert dog fish Foxes Great Horse Hawk Dragon Hojarga Jaibu Jegga Kirii Koylarini Nemmi Ovir Roggi Sea-drakes Seals Sjith Spider Snowshoe Hare Snow lions Snow Mice Thyfur Torkaani Torri War-dogs Weasel Whales White Deer White Hawks White Wolves
Olvar
Agâth Alzo Amar Anneke Barley Blenna Cellane Cicala Daral Darric Deon Dynallca Efrid Ezrin Gaggur Ghiloa Gort Gursamel Hristo Ikbal Inexes Irit Jakir Jubled Kiva kulwek Ky'tari Wine Jaymis Jes Jiri Jubled Karfar Kenja Klytun kylan Loryâk Lotank berries Lotanak Luku Nayeek Nega Nizza Nya Oranto potatoes Purg Reslyn Rumar Sahn Saluda Sebron Sharduvâk Shir Shuab Starza Sterhen Suman Taline Tevy Tonak Trikassa Turfiik Ujama Ukur Vykurk Wheat Yosis Zaklar Zorm
Peoples
Chegra Fustir Fustir-gost Haid Jaimani-Elves ice-Krals Ky'târi Palach Stiffbeards Syrkakar Udahir
Outer Information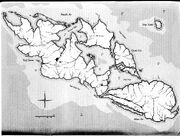 The Region of Mur Fostisyr was originally created for ICE's early Loremaster (ICE Series) module The Iron Wind, the area was later included into both of the company's Fantasy Worlds, the Shadow World Continent of Jaiman and their northeastern Middle-earth setting with the odd result that now two entirely different fantasy worlds share a much similar scenario and geographic region.
References
Community content is available under
CC-BY-SA
unless otherwise noted.