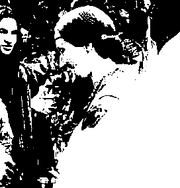 Mikla was a noble woman who married Lord Girion of Dale and would give birth to a son named Girnir.
Notes
The Character "Mikla" is roughly based on the character Mika Milovana from the 1966 animated Hobbit movie.
Speculations
Mika Milovana's name is not a Rhovanian form, it might be possible that she had an eastern background, perhaps Dorwinion, as the Folyavultig language is often interpreted as slavic-inspired in secondary works.
In the Movie
The 1966 animated Film differs sincerely from the literary original, as Mika and Bilbo Baggins reign Dale jointly for a brief time after it's been restored before he takes her with him back to the Shire as his bride.
Bloodline
References
1966 adaptation of The Hobbit