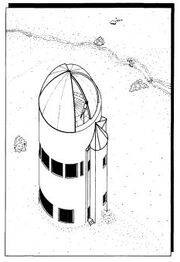 Taen na Malborn (S."Malborn's Height") was the private residence and observatory of the royal Seer Malborn.
Visible from the town of Fornost, yet some distance beyond, the observatory stood atop a hill to snare the least distorted view possible of the stars. A slender tower of translucent, white stone capped with a sectioned dome of steel, its polished surface blinded under the hard brilliance of sunlight, but came gently alive to bewitch and captivate under the softer rays of stars and moon. A dirt path traveled through the herbs, mosses, and grass carpeting the hills to connect the tower with the city.
Notes
Original forms in MERP: Ro-Malborn or Malborn High
References
MERP: Arnor
MERP: Rangers of the North - the Kingdom of Arthedain
Community content is available under
CC-BY-SA
unless otherwise noted.