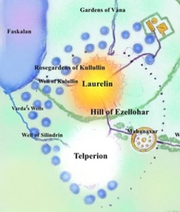 Mahanaxar was the Ring of Doom outside the gates of Valmar, in which were set the thrones of the Valar where they sat in council.
References
Read Sil38,50. 52, 70. 78-9.82.85. 98.
Boromir: "Is it not a strange fate that we should suffer so much fear and doubt for so small a thing? So small a thing!"
- J. R. R. Tolkien, The Fellowship of the Ring II:10
---
Community content is available under
CC-BY-SA
unless otherwise noted.