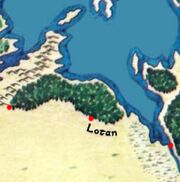 Lotan was situated to the west of the mouth of the river Talathrant, along the southern shore of the Gulf of Utûm. A deciduous forest covered most of its northern reaches, while dense marshlands occupied the river valley to the east. The rest of the area consisted of a cool, rich grassland. Ulgathig-speaking herders dominated the region, the Lothrag who were close cousins to the ancestors of the Wainriders.
Regions:
Kolomok Vales Menelothriand Northern Steppes Rusek river Ulshy
Places of Note:
Banadar Caladost Ciranthir Cüce Pazar Gamil-nâla Jizhníkemp Khurmand Lhûg Mûldin Namagaluz Narindazdûm Pamatoval Kruvdy Purepurla Tuaremindon Varení Pomsta Vecny Zást
References
the Wild Lands south and East, Gazetteer by Pete Fenlon
Community content is available under
CC-BY-SA
unless otherwise noted.