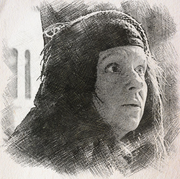 Lodingylla was an aging woman of mixed Dunadan and Northman heritage.She produced the beautiful diamond tiara which adorned Lady Hella during her wedding ceremony to King Bard II.
Notes:
In the original supplement this character was named "Lothiriel" and borrowed from the MERP Tharbad module.Here instead a pseudo-norse name is proposed.
References
A Guide to Dale and Surrounding Lands by Richard Harrison for the One Ring Role-playing Game
Community content is available under
CC-BY-SA
unless otherwise noted.