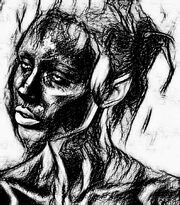 The Lindê-Pendi (S Av."Singing-elves") were a tribe of eastern Elves originally inhabiting the eastern coastlands of Southernesse's great east-continent.After the 16th century TA they were forced, due to increasing mannish colonization of the coastlands, to retreat inland behind the bloom Mountains and sunbitten lands to the bushlands and the shores of the inlandsea of Southernesse.They were known for their Gardening, bush-wifery, song and dance and were regarded as semi-deities by the old ones.
Notes
Original name:Singing Elves
Based on: Middle-Earth Down Under: An Antipodean Campaign by Norman Talbot (Department of English, The University of Newcastle, University Drive, Callaghan, Newcastle, NSW 2308, Australia) ©1994 Norman Talbot; first published in Other Hands 4.
Community content is available under
CC-BY-SA
unless otherwise noted.