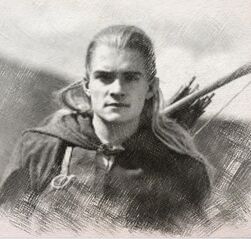 Legolas (born T.A. 1086 (N)) was the son of Thranduil, the Elven-king of northern Mirkwood. He was Thranduil's emmissary to the Council of Elrond, and one of the Nine Walkers on the quest to destroy the One Ring. He retired to the shores of Lebennin and eventually sailed into the West.
Appearance:
dark head
tall as a young tree, lithe, immensely strong
cheerful, youthful, humorous nature
Items
Community content is available under
CC-BY-SA
unless otherwise noted.