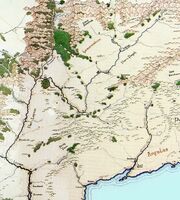 After the Anduin and Harnen, the Lefnui (S."Fifth River") was the longest river of Gondor. Emptying into the Bay of Belfalas at the westernmost extremity of Anfalas, the River Lefnui negotiated a winding path through the rugged wilderness of the White Mountains and the adjoining Pinnath Gelin. Despite its length, however, the Lefnui was navigable by keeled watercraft for less than seventy miles, and twice that distance by flat-bottomed boats. At the same time, with the exception of a single bridge at the river's mouth, the Lefnui could not be forded for more than a hundred miles. Taken together with the wild character of much of its surrounding territory, these topographical factors made the Lefnui a formidable barrier, rather than an aid, to travel.
Unlike the other major watercourses of Gondor, that of the Lefnui was forced by the geography of western Anfalas into dramatic shifts in direction for long expanses (again, making it counterproductive as an avenue of travel, if one desired to move in a straight line). The main bends of the river's course were defined by its two principal headwaters: the Nimthond and the upper Lefnui proper. The latter ran southwest out of the central Ered Nimrais, forming the wide Nan-i-Feryth. As the Lefnui encountered the northern face of the Pinnath Gelin, its path was abruptly forced northwestward, a course which it held steadily for a full seventy miles. At this point, the upper Lefnui merged with the Nimthond stream, flowing due south out of the Cirith Nimrais.This confluence, and the White Mountains that marched in concert with it, compelled the Lefnui into another ninety degree turn, following the southward line of the mountains until it reached the sea.
References
MERP:Southern Gondor:The Land
Community content is available under
CC-BY-SA
unless otherwise noted.